Occlusion-focused Dental Patient Education Software
BiteFX provides the best available dental patient education animations for dentists wishing to communicate the concepts of occlusion to their patients.
Benefits reported by BiteFX customers:
Revenue increases of 10% to 20% based on increased case acceptance
No longer experiencing "those blank stares"
Faster, more effective communication of occlusion concepts
Staffs coming fully on board as they see and understand the importance of occlusion-based treatments
Dentists feeling their stature with their patients is boosted because BiteFX shows them to be the subject experts
Concepts which BiteFX helps you communicate:
Healthy geometry and function of:

Temporomandibular joint (TMJ)
TMJ disc
TMJ relative to teeth
Jaw muscles (opening, closing, positioning)
Anterior guidance
Molar contacts

Dysfunctional geometry and function of the above
Effects of dysfunctional (destructive) geometry/function including:

Bruxing
Tooth wear
Tooth mobility
Nerve sensitivity
Tooth pain
Root canal problems
Fractured teeth
Abfractions
Gum recession
Bone recession
Muscle pain
Headaches
Stages of TMJ deterioration (Piper classifications)
Jaw clicking
Jaw locking
Interferences
Balancing Interferences
Fremitus
Restricted envelope of function
Knife-edge tooth wear
Total dentition destruction

Proposed treatments including:

Use of leaf gauge
Equilibration
Anterior splint/orthotic
Full-coverage splint/orthotic
Full mouth reconstruction
Use of implants
Advantages of taking bite impressions with jaw fully seated

And many other concepts and variations which you can make clear using the BiteFX animations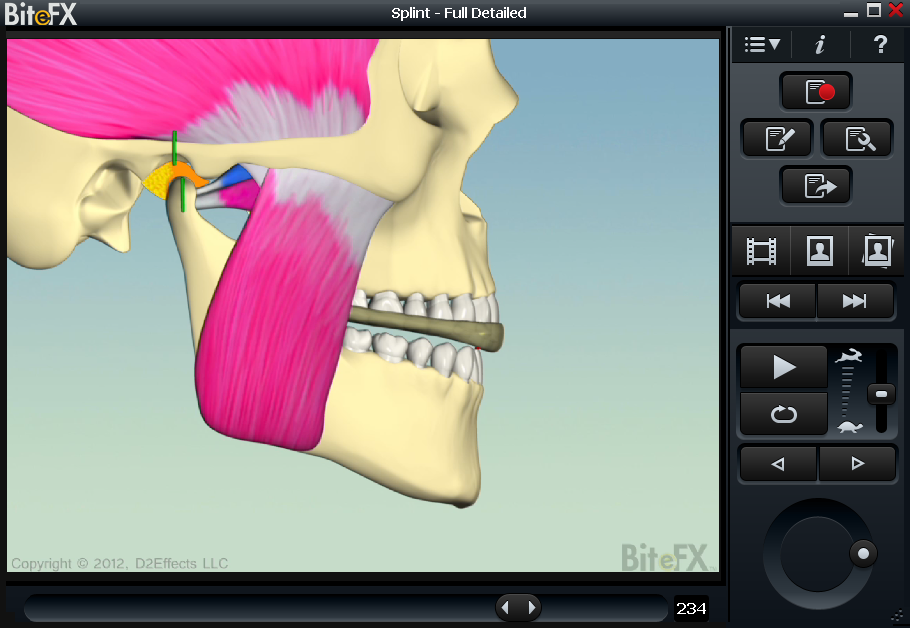 BiteFX provides beautiful animations with an easy-to-use interface that makes it easy to educate your patients in the concepts of occlusion
You can learn more about BiteFX dental patient education software:

Talk to Dr. Reid about occlusion, your practice or questions on BiteFX
Outside USA::
(+1) 530-582-1189
What people are saying about BiteFX::
BiteFX made dealing with occlusal factors very simple. Clients are amazed they've never been educated about this before.

— Don Reid, DDS
Using BiteFX was so easy.

— Mike Viale, DDS