BiteFX Dental Treatment Plan Reports
Many times, after viewing a dental treatment plan, patients will say: "I'd like to think about this" or "I really need to talk to my spouse about this". If you've just explained the concepts of occlusion to them, you might wonder what exactly the patient will remember or communicate to their spouse:
"It's something about the shape of my teeth and a disc-thing in my jaw" ??
BiteFX keeps a track of what you presented to your patient and provides standard notes explaining what each animation and photo shows. With the click of a button or two you can send your patient away with a PDF (portable document format) report (which you can print, send by email or copy to disk).
This report gives them accurate reminders of what was presented so they are much more likely to recall what you explained and communicate it well to their partners.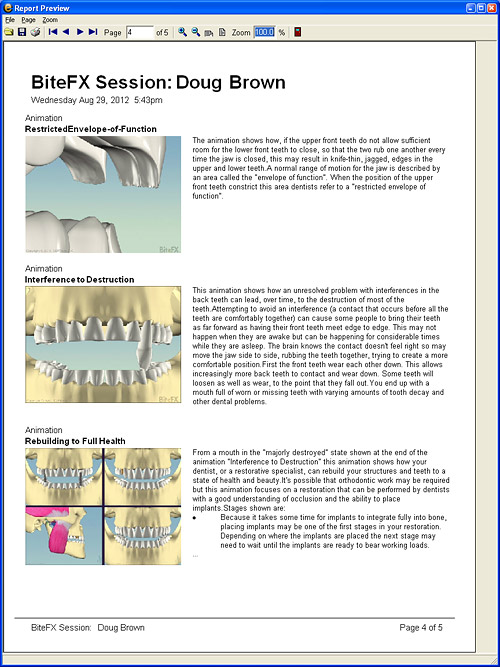 Example page from a BiteFX Dental Treatment Plan Report
You can edit the notes to match what you like to say to your patients and add introductory and concluding remarks.
This is just one of many features in the BiteFX product that help patients accept the treatment that you know is best for them.
Outside USA::
(+1) 530-582-1189
What people are saying about BiteFX::
BiteFX is an awesome, revolutionary product.

— Steve Killian, CDT Killian Dental Ceramics
BiteFX is such a great tool to use to explain the fundamentals of occlusion for patients and QuickStart got us off to a great start.
— Ilene Chiotti, Office Manager – Bradi Boyce DDS