BiteFX Insiders' Secrets and Tips Webinars
– No Need to Feel Isolated Any Longer!
As a member of the BiteFX Platinum Insiders' Circle you will be able to enjoy and learn from our monthly Insiders' Secrets and Tips webinars.
In these webinars you have the opportunity to join with other occlusion-focused dentists and thought leaders as they share their tips and knowledge of what is working best for them today.
Regular items include:
BiteFX News – so you always know what's available to you in the software, animations, marketing tools, partner product and events.
BiteFX Tips – stories and demonstrations of how to use BiteFX most effectively
Marketing Tips – how to make the most of the marketing tools we provide and how to present your practice in the best light
Dental Expert – each month we feature a leading dentist sharing expertise relevant to occlusion-focused dentists like you.
Recent presentations have included:

Dr. John Cranham, Clinical Director of the Dawson Academy
Dr. Mike Racich, Author of "The Basic Rules" series of books
Dr. Donald Reid, Creator of BiteFX

Some recent topics:

Contemporary Occlusal Concepts: The Keys to Success
How Proper Implant Training Exploded My Practice!
The 3-D Magic of a Chair-side Mock Up
Secrets I Use to Get 90% Case Acceptance
Interview with Dr. Racich, Author
All Platinum Insiders' Circle members gain access to the recordings of past webinars so you gain a great wealth of information the moment you sign-up!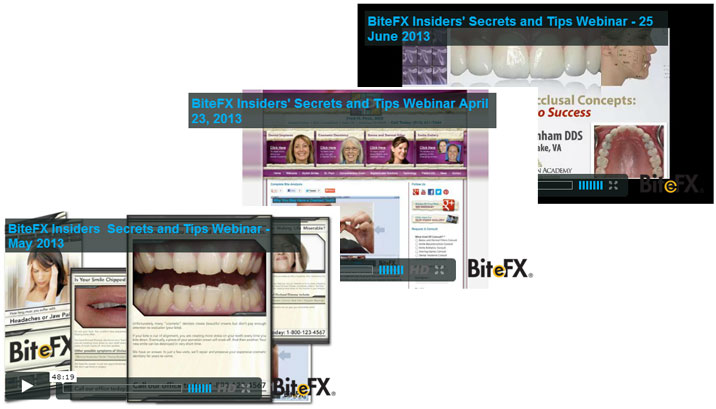 Talk to Dr. Reid about occlusion, your practice or questions on BiteFX
Outside USA::
(+1) 530-582-1189
What people are saying about BiteFX::
When my dentist used the animations to show me the reason all of my back teeth were worn down and loose, I immediately accepted his entire treatment recommendations. I'd never seen such a logical explanation. It made total sense.

— Frank Holt, patient
BiteFX has been an amazing addition to our consultation experience! Our patients, both new and existing, have given rave reviews.
— Richard Rogers, DDS